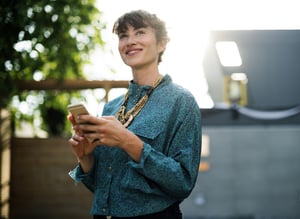 Sole proprietors have the benefit of being lean and agile. Operating with minimal overhead, freelancers cut out the excess so they can focus on what matters. So can they do without workers' compensation insurance?
In every U.S. state, sole proprietors are not required to carry workers' compensation insurance if they have no other employees.
Below, we dive into some nuances that solopreneurs should consider when debating whether or not to carry work comp.
>> Check your state to see its specific requirements for sole proprietors. <<
Am I Required to Carry Workers' Compensation Insurance?
First and foremost, as a sole proprietor you may not be required to cover yourself with workers' compensation insurance, but you may be required to cover other partners or employees, even if part-time. Check your state's specific requirements, and remember that policies are based on payroll, so part-time vs. full-time employment generally doesn't matter.
If you are located in a different state that your employees, you'll need to check out the requirements for the states where they are performing work.
Lastly, be wary of the contractor versus employee distinction. Keep in mind that there are general guidelines used when determining whether a worker is a subcontractor or an employee, and these may be applied in work comp cases.
Should I Carry Workers' Compensation Insurance?
Even if you're not required to have coverage, you might wonder whether you should carry a policy anyway.
As your own boss, work comp may not be required. But it doesn't mean you couldn't get hurt in your line of work. A work comp policy could help with medical bills and foregone income if you're unable to work.
If you elect not to carry work comp coverage, make sure you take proper precautions to keep yourself safe and protect yourself (physically and financially) in the event of an injury. This can include health insurance and/or disability insurance.
Can I Be Contractually Required To Carry Workers' Compensation Insurance?
Even if you're not legally required to carry a work comp policy in your state, you could be contractually required by a company you're working with.
From the hiring company's standpoint, an independent contractor that gets injured could claim to be an employee, file a workers' comp claim, and win. This can vary depending on the nature of the relationship and the legal precedent of your state, but particularly in states that tend to side with employees in work comp cases, companies may require proof of insurance to offset their own liability.
If you run into this situation, you have several options:
Secure coverage. You may wish to get a work comp policy to cover yourself and show proof of work comp insurance to the company.
Show proof of insurance. Rather than getting work comp, you might show the company proof of other policies you carry, such as health, life and disability insurance. You might also submit in writing your independent status and that you are waiving the right to work comp coverage. In some cases, this may be sufficient to meet the company's requirements.
Walk away. Proof of insurance will likely differ on a company-by-company basis, so you might choose to pursue freelance opportunities with other companies or in other markets.
What Insurance Policies Does My Small Business Need?
No matter how small your business, you need some form of insurance to protect it. This might include general liability, a BOP (Business Owner's Policy), life insurance professional liability insurance (or errors and omissions insurance), or business property insurance.
Talk to an insurance agent about the policies and coverage that's right for your business.
Get Workers' Compensation Insurance for Your Small Business
Interested in work comp? You can get started on a free, no-obligation quote on your next coffee break.
Get a workers' compensation insurance quote today, in 5 easy steps!