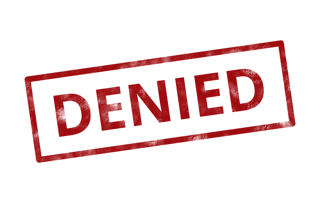 When it comes to workers' comp insurance, insurance carriers evaluate your business based on the jobs performed, or more specifically, the probability of risk for physical illness or injury an employee faces when performing those tasks. They also look at your claims history, which is used to gauge how safe your workplace is and how likely you are to have future claims.
If after looking at these factors the carrier believes the business is too great a risk, it may choose to deny coverage. You still can (and must) secure work comp insurance to meet your state requirements, so here's what to do.
Work Comp Quote Denied? Here's What to Do Next.
As frustrating as a rejection can be, you can always get the work comp coverage you need. The fastest path forward is to contact your state's fund or assigned risk pool, which cannot deny coverage.
Each state chooses from one of two avenues to provide the mandatory work comp coverage that you need. Either option will offer you coverage regardless of industry or claims experience. The first is called a Workers' Compensation State Fund. With this option, the state sets up its own underwriting, policy issuance and claims department. Everything is handled and backed by the state.
Option two is called the Assigned Risk Pool. With this option, the state outsources the workers' compensation needs to an entity called the National Council on Compensation Insurance (NCCI). They handle the underwriting and pricing. From that point, when a business wishes to move forward and purchase the coverage, the new policy is then assigned to a private insurance that is required to service and maintain the policy on behalf of the state and NCCI.
Check our state pages to see which option your state provides.
Related Resource: Select your state from the map and scroll down to the Key Resources to contact your state fund.
However, we recommend shopping around if you're able. Several dozen domestic carriers offer workers' comp insurance for small business, and some may be able to offer coverage—and a more competitive quote—than the state fund.
Keep in mind that different independent agents may have access to different carriers. The insurance agency doesn't even need to reside in your state, as long as its agents are licensed in the state(s) where your employees work.
That's why it's best to work with an agency that's licensed in every state, and has a strong network of carrier partners to deliver you the best quote and coverage available. Good luck!
Need Work Comp Now? Get a Quote from WorkCompOne in 5 Easy Steps