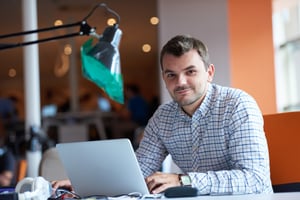 If you have employees, you probably need a workers' compensation policy. Nearly one in five small business owners needs to carry work comp. Unfortunately, shopping for it can be confusing, and many traditional insurers don't want to bother with policies for small businesses.
Here's what you need to know to shop work comp the smart way.
How to Shop Workers' Comp Policies The Smart Way
1. Know Your State Requirements
Workers' compensation is regulated at the state level, so reviewing and understanding your state's regulations should be your first priority. Your state will dictate where you can shop for a policy and which employees must be covered.
Remember:
You must comply with any and all states where your employees are performing work, or ask about an All States Endorsement.
Your policy will only provide coverage within state lines. Again, obtain multi-state coverage if you need it.
Work comp only covers injuries that employees sustain while on the job. For other injuries or damage, you might need a general liability policy.
For example, the number of individuals you employ will impact whether you're required to carry workers' compensation insurance. In most states, you're required to carry coverage if you have one or more employee.

Some states, like Georgia, don't require coverage until companies have three employees. (Though there are good reasons to carry coverage for any size business.)

Understanding your state's requirements will help you remain in compliance at all times.


2. Group Employees Based on What They Do
Workers' compensation rates are based on classification codes, a numeric system that standardizes the work that employees do. Then each class code is assigned a rate, based in part on the likelihood for injury or relative risk.

If you need work comp now, group current employee payroll based on the type of work they do. For example, the company below will need work comp for an administrative assistant ($40,00 payroll) and accountants ($150,000 payroll).

Along with grouping employees, get in the habit of drafting clear descriptions of roles within your company. This will make it easier for an insurance underwriter to classify your employees accurately.

Remember, your workers' compensation insurance premium is based on the risk associated with each employee group, as well as the total employee payroll. This makes accuracy extremely important.
Learn more: How to Calculate Workers' Compensation Costs Per Employee
3. Estimate and Monitor Payroll
Whether your business is growing, contracting or experiencing turnover, your payroll is unlikely to stay the same over the course of 12 months.
Plus, there are different payroll processes for different employee types:
Full-time employees: Calculate annual estimated gross earnings for all full-time employees.
Part-time employee: For payroll purposes, these employees are treated the same as full-time workers. However, part-time employees typically earn less over the course of a year.
Family members: If you're required to cover family members, do so in the same manner as any other employee.
Hourly workers: Hourly and salaried workers are treated the same, but it may take more time to accurately estimate an hourly worker's payroll.
Temporary workers: All temporary workers require coverage, and it's important to keep your policy in effect for these workers year round.
When buying workers' compensation coverage, estimate annual payroll based on your current circumstances. At the end of the year, your audit will include checking the actual payroll, and your insurance carrier will issue a credit or bill as needed.
To improve cash flow, monitor and report your current payroll throughout the year. Some insurers will adjust your coverage, and therefore your premium, as payroll fluctuates.
4. Have Your Existing Policy Handy
If you have coverage already, have your current work comp policy accessible, especially if you're shopping around with multiple carriers. You'll likely be asked for information on the policy that will expedite the process, and get you covered faster.
Some key information to have on-hand:
Class Codes: As we mentioned above, your payroll will be broken down into job descriptions. If you already have assigned class codes, the insurance agent can use these to calculate your premium, and make sure that they're correct.
Experience Modifier: If you've been in business for several years, you may have been assigned an Experience Modifier. This number takes into account your history of claims, and compare it to similar businesses. Depending on whether you are above or below average, you will receive a mandatory debit or credit on your premium.
Loss Runs: If you have a more complex business with higher premiums, underwriters will require "loss runs," which are claims reports that show all claims that have been paid on your behalf for a specified period of time. These can be easily ordered from your current insurance company or agent.
Also, this is a good time to ask any questions you have about your policy.

5. Ask About Discounts and Credits
Employers can't control most of what is used to calculate premiums: Your state's workers' comp rates, available insurers and business class codes. But you can control costs by asking about discounts and credits, such as:
Workplace safety programs: Most insurance companies will recognize and reward a formal safety program. Talk to your insurance agent or carrier to find a program that qualifies.
Formal training programs: Similarly, many structured safety training programs, such as a 90-day program for new hires, can result in a credit on your policy.
Owner exceptions: In some states, employers can choose to exempt themselves from coverage, which will reduce your premium.
Payment plans: Many carriers offer a variety of payment plans (annual, semi-annual, quarterly). While not a discount, paying in larger installments will reduce billing fees tacked onto each payment. These savings can add up for small businesses.
Payroll reporting: Pay a more accurate premium on a monthly basis. This increasingly popular option allows business owners to report company payroll monthly and be billed for that amount. For businesses that keep a close eye on cash flow, this can be a good alternative to traditional premiums, which correct for payroll changes at the end of the year.
It doesn't hurt to ask what discounts, credits and other programs are available to save you money.

6. Review Your Audit and Policy Annually
At year's end, your insurer will conduct an audit, and you can choose to renew or seek coverage from another carrier. Even if you're not switching carriers, it's important to review your audit and policy carefully.
Check for errors: Double-check your audit for any potential errors, so they can be corrected.
Make necessary updates: If your business model, size, geographic market or payroll have changed over the past year, make sure your new policy reflects these changes.
7. Choose the Correct Class Code
Choosing the correct class code is critical to buying the right coverage at the best possible price.

A class code is a three or four digit number assigned by a state rating bureau or the National Council on Compensation Insurance (NCCI).

Each code is assigned to a specific job duty, which allows employers to accurately classify their employees. Businesses may have one class code assigned to it, or several. For example, many businesses have their primary class code along with sales or clerical employees.

With approximately 800 unique class codes in the NCCI classification system, it can be a challenge to choose the right one. An expert in workers' compensation insurance can evaluate the responsibilities of your workers and help you make sure your business is properly classified.
8. Find a Work Comp Expert
Most importantly, work with an insurance agent that knows the workers' compensation system in your state. They will be best suited to make sure your workforce is classified accurately, that you're in compliance with state guidelines and that you find the policies and coverage that's right for your business.
Get a workers' compensation insurance quote today, in 5 easy steps!