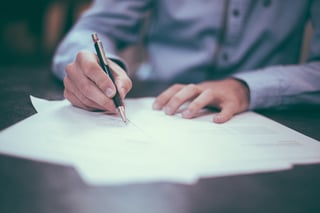 You're looking to get a workers' comp quote for your small business, and you receive a message that your case is being "referred to underwriting."
First of all, don't worry. This means that the insurance carrier requires a member of their underwriting team to review your case before issuing a quote.
Find out more below.
Why Is My Quote Being Sent to Underwriting?
In some cases, insurance carriers give independent agents authorization to issue a workers' compensation policy without checking with them first. If your case is being "referred to underwriting," one of the carrier's underwriters must review the details prior to approving a quote. Underwriters are responsible for assessing risk in order to determine the coverage and cost of an insurance policy.
Quotes that require underwriter review may include:
Larger businesses: This may be based on number of employees or total payroll. In either situation, it presents more opportunities for claims or more expensive claims, so carriers want to fully understand your business before moving to the next step.
Businesses associated with risk: The more dangerous the work or work environment, the higher likelihood of injury, and therefore, a work comp claim. Higher-risk businesses include those that work with heavy machinery (construction, manufacturing), at heights (roofing), and other potentially hazardous work (trucking, lumber).
As a reminder, workers compensation insurance carriers look at three main factors to determine coverage and cost: what you do, where you live, and what your claims record is.
What Happens Next?
In the meantime, you might receive a quote from your agent, but that price is contingent upon the carrier's approval. You may only wait several hours for the carrier to review and approve the quote. Or, the underwriter might contact you (through the insurance agent) to gather more information about your business. Expect to wait approximately 24 – 72 hours for a quote.
Worst case scenario, the carrier believes your business is too risky to offer a policy at this time. If that happens, you still have options to secure the coverage required by law. Here is where to go if your quote is denied: What Do I Do If My Quote Is Denied?