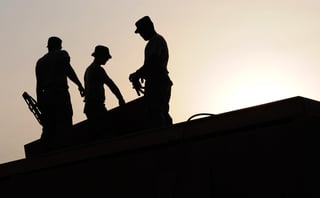 Construction sites carry their fair share of hazards, but there are a number of steps you can take to make sure your construction site is safe and your business is protected from liability:
Make sure you're OSHA compliant. You can use this Compliance Assistance Quick Start as your guide for construction regulations.
Create a culture of safety. Train employees on proper techniques for lifting, operating equipment, handling tools or chemicals, and what to do in an emergency. Provide and require the use of proper safety equipment such as gloves, protective eyewear, face masks, hair nets and steel-toed boots. Reinforce a drug-free environment through mandatory drug testing to further reduce the risk of accidents, keep work areas clean and free of clutter and maintain any equipment or tools used by employees to reduce risk of injury.
Get proper coverage. Make sure your W-2 employees are covered by a work comp policy in case any employees are injured on the job site. Workers' compensation insurance is required by every state, and construction sites can be especially tricky because of the contractor/subcontractor nature of it.
Remember, subcontractors are the liability of the general contractor, unless they carry their own workers' compensation insurance. A general contractors' work comp policy automatically covers subcontractors, if the subcontractor does not carry their own coverage. Be sure to require subcontractors to show proof of insurance before stepping on the jobsite. This is a good resource with some more tips on potential safety hazards and how to make sure you are protected from liability.
Ask for help. You may also want to contact your insurance company to see if its loss control department will meet for a consultation. Many will work with you to create a safety management plan at no cost. OSHA's On-site Consultation Program offers free and confidential advice to small and medium-sized businesses across the country, with priority given to high-hazard worksites.
More tips: How have you maintained or improved building site safety?
You Might Also Like: Everything You Need to Know About Workers' Compensation