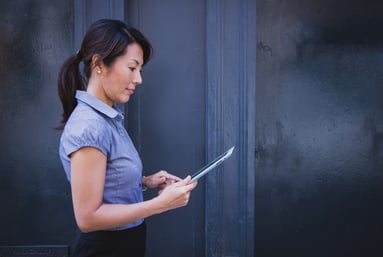 There's a saying in several cultures that it is smart to learn from your own mistakes, and wise to learn from someone else's. So we've rounded up advice from the best entrepreneurship and small business sites, with tips by and for entrepreneurs.
(Share yours in the comments! What advice would you give to a new business owner?)
1. Separate Caution from Fear
"Don't let fear be a factor in decision making. Too often I see entrepreneurs fail to launch because of fear. "What if we can't do it?" "What if something goes wrong"? I understand that we need to consider the pros and cons of our decisions, but we need to be self-aware—are we identifying risks or are we just plain fearful? If fear is keeping you from taking your business to the next level or the next step, then you are allowing fear to dampen your company's potential."
- Jennifer Manaavi, 6 Women Entrepreneurs Share Their Best Advice, The Balance Careers
2. Do a Test Run
"Want to be sure if your business idea is indeed unique? Run a test and find out. A pilot will give you the confidence you need to take your idea to the next level and mitigate risk. You can start on a small scale by giving away some freebies to a few people in your target audience group to see how they respond.
"A small trial can give you some new insights to grow your business and identify challenges that you might have overlooked."
- Checklist: How to Start a Business with No Money, Small Business Trends
3. Get Out of Your Comfort Zone
"Be ready to speak confidently about your business, even if it makes you uncomfortable. As a new business owner, you will need to market and network constantly. From networking with clients to negotiating supplier payment terms, you must be able to communicate."
- Mike Kappel, 10 Tips For Starting A Small Business That You Haven't Heard A Thousand Times Already, Forbes
4. Establish a Support System
"You're going to be investing a lot of time and resources into your new business venture. Be certain that your family is on board. They must be aware that this process will be challenging financially and emotionally."
- 50 Tips for Starting Your Own Company, Entrepreneur
5. Befriend Your Competition
"Visit your competition, introduce yourself and develop a good relationship with them. Refer customers to them when it makes sense and don't be afraid to ask them for help or advice. Even though you and your competitors are offering similar products or services, you each have your own specialization. Instead of fearing that competition, give them credit for what they excel at. Believe it or not, that will be reciprocated."
- The 10 Things You Must Do From Day One So Your Startup Thrives, Entrepreneur
6. Embrace Your Best Customers
"Word of mouth can go a long way in bringing you new business. Often, the best way to get new clients is by leveraging your existing clients. An easy way to do this is with a customer referral program."
- Maggie Aland, How to Get More Clients: Top 25 Tips From the Pros, FitSmallBusiness
7. Know When to Ask for Help
"[Just] because you're starting a business, doesn't mean you have to be an expert on everything. If you're not an accountant or bookkeeper, hire one (or both) ... If you need to write up a contract, and you're not a lawyer, hire one. You will waste more time and possibly money in the long run trying to do things yourself that you are not qualified to do."
- 10 Top Business Tips for Starting a Business That Will Succeed, The Balance SMB
Buy Small Business Insurance
Need help with small business insurance? WorkCompOne was built by and for small business owners, so you can stay compliant for less time, money and hassle than traditional insurance agencies.