Classification codes (or class codes) are used to categorize businesses and assign them an accurate workers' compensation insurance rate. The rate is then used to calculate the premium cost for a workers' comp insurance policy.
As a small business owner, workers' compensation insurance is something you probably need. How much it will cost depends primarily on two major factors: total employee payroll and classification codes.
Workers' compensation classification is assigned to employees based on their job responsibilities. For example, the code for a carpenter won't be the same as a delivery driver. This code is assigned a rate and used to calculate the price of coverage.
To avoid overpaying for workers' compensation insurance, it's critical that both of these numbers are accurate. In this post, we explain classification codes. (See this post for more information on calculating payroll correctly, see: How to Calculate Payroll to Find Your Workers' Compensation Cost.)

Workers' Compensation Classification Codes & Rates
Classification codes are usually 4-digit numbers assigned to businesses based on industry. Similar businesses are grouped together to collect data on workplace injuries and illnesses for each class code. This data can show patterns, and is used by a rating agency to assess the relative risk associated with that type of work.
The rating agency then assigns a rate to each class code (represented per $100 in payroll) commensurate with that risk. The rate is multiplied by payroll to calculate the base workers' compensation premium.
Because workers' compensation is regulated at the state level, each state decides which rating agency to use and rates will differ by state. And while rates are assigned to each class code individually, statewide rates are often raised and lowered at the same time and proportionally. (For example: "5.44% Workers' Comp Rate Decrease Approved in Wisconsin.") These adjustments are intended to reflect changes in the state's workers' compensation system as a whole, such as lower healthcare costs or improved workplace safety.
The Basics of Classification Codes
Full-time, part-time, seasonal — the work status of employees doesn't matter. Regardless of how many hours they work, an employee is assigned a class code associated with their profession.
A very small business, such as one with three or fewer employees, may only have one classification code. However, the more employees you have, the more likely it is that you'll be dealing with multiple class codes.
Why do classification codes matter so much? Compliance and cost.
Workers need to be insured under the correct class code to have the appropriate coverage. Getting class codes right can also help your bottom line: The rate for a plumbing business in Indiana is $1.68 per $100 in payroll, while the rate for clerical work is just $0.35.
This means that insuring your office manager under clerical and not plumbing could mean a savings of 80%.
Examples of Class Codes & Rates
| | | | | |
| --- | --- | --- | --- | --- |
| State | Rating Agency | Industry | Class Code | Rate* |
| Florida | NCCI | Plumber | 5183 | $1.08 |
| Georgia | NCCI | Plumber | 5183 | $3.86 |
| Indiana | Indiana Compensation Rating Bureau | Plumber | 5183 | $1.33 |
| Pennsylvania | Pennsylvania Compensation Rating Bureau | Plumber | 663 | $2.42 |
*Rates are for illustrative purposes only, based on published rates for Plumbing - NOC between 2019 and 2021. For the most up-to-date rates, compare quotes from leading carriers.
Most U.S. states use NCCI as their rating agency, an organization that has its own classification system. But rates are assigned to each class code and adjusted to each state's workers' compensation data. This means class codes might be the identical in Florida and Georgia — but the rates for the same classification code would differ.
Some states, like Indiana, use their own rating agency but still use NCCI's classification code system, while others (including Pennsylvania) use their own rating agency for both classification and rating.
All businesses within a class code are assigned the same rate. From there the final workers' compensation insurance cost will depend on:
Total employee payroll
Other credits or debits based on individual safety and claims records
The insurance carrier's filed rates based on loss history (in non-base rate states)
That's why we recommend getting a quote for the most accurate price estimate.
How to Determine Employee Class Codes
Follow these steps to figure out which employee classification codes and rates apply to your business.
1. Check State Workers' Compensation Laws
Determine which workers must be covered by the policy under the state workers' compensation laws. Check state work comp regulations here.
2. List Employees to be Covered
Decide whether to include any other workers on the policy, such as owners or officers. Again, who must be covered by the policy, and who can be included or excluded upon request are dictated by the state's work comp regulations.
3. Look at the Active Policy (if applicable)
If you currently have a workers' compensation policy, review it for employee class codes. Note: Don't rely solely on this if your operations have changed. If you've added clerical or sales roles, or expanded operations into other areas, additional class codes may apply.
If you've never purchased coverage before, here are some ways to figure out your employees' class codes: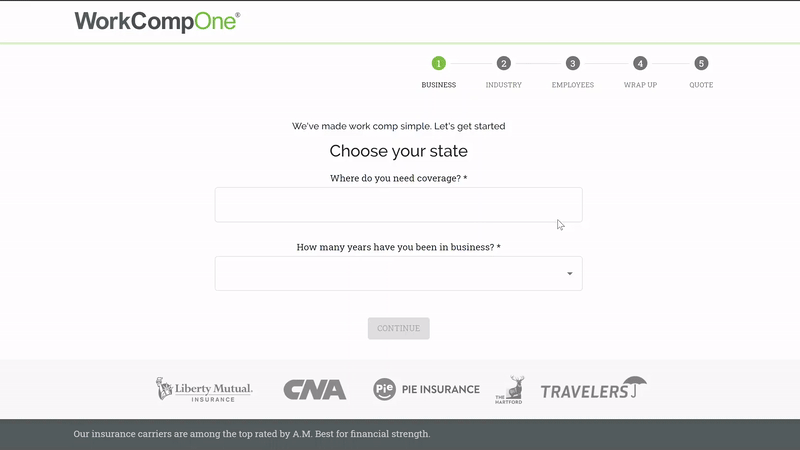 You'll likely need to contact an insurance provider to find out the correct classification codes and get up-to-date rates.
4. Purchase Your Policy
When purchasing coverage, report all workers to be covered under the policy, so all relevant classification codes and payroll are included.
More Tips to Choose the Right Class Code
To choose the best class code(s) for your business, consider the following:
What is the primary product or service you sell?
What tasks do your employees perform?
Do you have contractors or subcontractors? Do they require coverage?
Learn More About Workers' Compensation Insurance Cost
Editor's note: This post was updated in 2021 for accuracy and comprehensiveness.