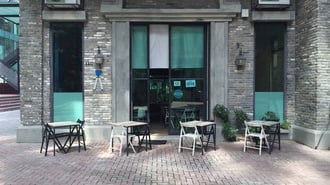 Workers' compensation is regulated at the state level. If you have full- or part-time employees, make sure you're compliant with all legal and insurance guidelines for workers, including workers' compensation.
Want to know more about workers' compensation insurance? Read The Small Business Owner's Guide to Workers' Compensation Insurance >>
Which State Laws Apply?
Before diving into specific state laws, make sure you're compliant with the correct state(s). When it comes to workers' compensation, businesses must comply with the state where the employees perform work. In the case of most small businesses, this is the same as where the company resides. But businesses operating in multiple states, hiring workers out of state, or moving operations should evaluate any and all states where they conduct business.
Select your state to jump right to your state's specific guidelines, or read on for tips on how small businesses can comply with their state workers' compensation system.
The Workers' Compensation System
Workers' compensation, the coverage that protects workers in the event of a job-related injury or fatality, is nearly universal in the United States. But workers' comp is not subject to federal law. Every state has its own workers' compensation laws on the books, and these shape what is known as the state's workers' compensation system.
A workers' compensation system is generally comprised of:
Laws that dictate which workers are protected under workers' compensation, employer responsibilities, compensation amounts, etc.
A state board or regulating body, which is responsible for communicating rules and regulations, resolving disputes and managing claims.
Some states have established a state fund, or a government-run insurance carrier that offers work comp coverage.
Similarly, some states offer an assigned risk pool for higher-risk businesses. It may be state-run or managed by a third party, and places these businesses with a carrier so they can obtain coverage.
Private commercial insurance carriers, which may be national or regional, and sell workers' compensation insurance policies to businesses.
National trends may affect particular work comp markets, such as the uptick in gig economy workers like Uber and TaskRabbit. But legal standards, rates and enforcement are handled on a state-by-state basis.
Work Comp Requirements
How much do regulations differ from state to state? Quite a lot, in some cases. In general, the factors that differ include:
Where you can buy it. Can you purchase a policy from any commercial insurer licensed in that state, or do you have to buy it through the state? Do you have access to a public option or state fund that competes with the private market?
Who needs to be covered. Employee limits are the number of employees required to be covered by a work comp insurance policy. Often businesses with three or fewer employees aren't required to carry coverage, but it can vary from state to state.
The definition of an employee. Most states agree that full- and part-time workers are employees, but they may differ in how they treat sole proprietors, partners, members of an LLC, independent contractors or family members. The courts and legal precedents may also skew in favor of siding with workers vs. employers, depending on the state.
Out-of-state work and reciprocity. All work comp policies provide coverage within state lines. Some states allow reciprocity with other states, or honor an All States Endorsement for temporary work or business-related travel. Check your state guidelines to be sure.
Workers' Compensation Insurance Rates
Insurance costs can also vary dramatically from one part of the country to another. A number of factors contribute to this: for example, the relative cost of worker wages and medical care.
The state's recent history of workers' compensation claims can make it a more or less desirable location to write, thus driving premium costs. Relatedly, the economic makeup of the state matters: Is the state economy centered around industries with a low risk of injury, like professional services, hospitality or tech? Or are logging and trucking major employers state-wide?
It's part of why it's so hard to estimate how much workers' compensation insurance costs, without knowing a business' location and type of work. A plumbing business in Indiana might pay under $2,000 annually for work comp, while a comparable business in California pays more than $13,000.
Get Workers' Compensation Insurance for Your Small Business
The simplest way to get workers' compensation coverage for your small business is to work with an expert. WorkCompOne was built by and for small business owners, so you can be compliant for less time, money and hassle than traditional insurance agencies.
Get started on a free, no-obligation quote on your next coffee break.