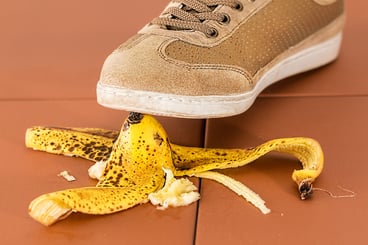 Shopping for business insurance can be tedious, time-consuming and confusing, particularly for new businesses. The needs and risks of businesses vary much more than personal lines insurance products. What's more, small business owners often consider "insurance administrator" one of the many, many hats they wear each day.
Efforts to cut time or money corners can lead to more time, money or hassle down the road. Make sure you avoid the mistakes first-time commercial insurance shoppers often make.
8 Most Common Mistakes: Are You Making Them?
WorkCompOne specializes in workers' compensation insurance, but our team has a deep background in personal and commercial insurance. These are the most common issues we've seen, and what you should do instead.
#1 You're not buying the right coverage for your needs.
Too often, businesses carry the wrong coverage. Busy small business owners might put off looking into policies or just take generic advice on insurance needs. Either one can hurt your business.
What to do about it: Shopping business insurance is the perfect time to make sure your coverage aligns with your needs. This includes policy types, exclusions, riders and coverage limits. Explore what insurance products are out there, and ask what coverage limits are right for your business.
#2 You withhold important information.
Insurance agents and underwriters are tasked with being fact-finders. What's your business? What are your risks? How can we help?
Not being forthcoming with essential information can delay the information-gathering process - or worse, leave you with a policy that doesn't cover all your needs. In the case of workers' compensation insurance, this can leave you exposed to financial and legal liabilities.
What to do about it: Be transparent with business information, like payroll, type of work conducted or office setup. It'll get you covered faster, and avoid unpleasant surprises later on.
>> Related read: 7 Tips for Buying Work Comp Insurance
#3 You keep poor records.
Running a small business means moving fast and wearing many hats. It also means you may not have set processes, filing or records for every aspect of your business.
Inaccurate or disorganized paperwork and records can cause headaches, particularly during an insurance audit.
What to do about it: Get a system in place early for your insurance policies. Ask your agent what record-keeping you'll need for your audit, and if they have any templates or recommendations. Trust us; it'll save you time and stress at the end of the year.
#4 You ignore the fine print.
You pour your heart into the details of your business. You deserve the same from your insurance coverage.
Like finding out your homeowners policy doesn't have flood insurance when your basement's underwater, you don't want to find out your coverage limits when it's too late. Most of what you need to know is spelled out in black and white - so make sure you review it before you commit.
What to do about it: To avoid getting burned, make sure you:
Read specifically what is - and is not - covered by your policy.
Read limits and terms of the policy.
Ask questions. Don't understand something? Ask your insurance agent to walk you through it. They should be able to answer any questions you have and explain the nuances of coverage.
#5 You don't shop around rates.
The traditional insurance model isn't always favorable to small business owners. Certain policies, like workers' compensation insurance, is time-consuming and expensive for brick-and-mortar agents - so the costs are passed on to the insured.
Similarly, a captive insurance agent represents one insurance carrier. An independent agent can shop around its network of carriers for multiple quotes, and bring the best offer to you.
What to do about it: Avoid the urge to purchase all your policies from one commercial agent. Shop around, and you may find a specialized agency can give you better coverage, for less.
#6 You evaluate insurance quotes on price, rather than value.
Long hold times. Unresponsive emails. Getting caught in an endless, unhelpful customer service loop.
It only takes one bad experience to know that the lowest price shouldn't be the only factor in your buying decision. But many small business owners want to keep costs low, and settle for the lowest bidder.
A low premium could end up costing you: in hidden fees, in uncovered claims and in time spent getting the answers you need.
What to do about it: Like any business partner, evaluate the insurance agency:
Do they seem reputable, and have a network of well-known commercial carriers?
Are they knowledgeable about the insurance products they offer?
Can they offer straightforward advice on the right policy for your business?
Do they provide customer support for questions or claims?
#7 You renew the same policies every year.
Think about where your business was six months ago. What about 12 months ago?
It's tempting to renew policies as-is, year after year, without updating them to match the current needs of the business. But small businesses in particular move and evolve quickly - and so do their insurance needs.
What to do about it: Revisit policy details as you approach its renewal date. If details need to be updated, or you're not sure the coverage is right for your business, talk to your insurance agent. They should be able to advise on whether your business has outgrown, or no longer a fit for your current coverage.
#8 You're reactive, not proactive.
For many small business owners, insurance kicks in when the unfortunate occurs. The policy is bought, stuck in a drawer, and dealt with only when they have a claim to file. This reactive mentality can be more costly, and ignores the valuable risk management advice the insurance-shopping process can provide.
What to do about it: Don't be a victim to chance. Protect your business and your wallet, and find out how you can prevent the risks facing your business. Your insurance agent and insurance company should be able to help, whether it's developing safety procedures, setting up security measures, or installing a fire sprinkler system.
With a few preventative measures, your business won't be sidetracked by disaster - and you might qualify for premium discounts, too.
Get Workers' Compensation Insurance for Your Small Business
WorkCompOne was created to serve the needs of small businesses. Interested in work comp? You can get started on a free, no-obligation quote on your next coffee break.
Get a workers' compensation insurance quote today, in 5 easy steps!